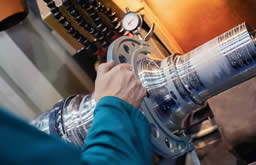 Transit Sourcing Services, Incorporated
TSS, Inc. was founded in 1994 as a specialty supplier to the passenger rail transportation industry, and we continue to maintain that focus today. Since 1994, we have supplied wheels, axles, honeycomb products, and more to various agencies throughout the United States and Canada. TSS products are successful in the rail transit market with more than 300,000 wheels and axles supplied over 25 years.
As of February 2019, TSS, Inc. is pleased to announce that we are a Certified Disadvantaged Business Enterprise/Women's Business Enterprise in the state of North Carolina. In addition to providing decades worth of experience and proven service in the rail industry, we are proud to offer DBE content for your DOT-assisted projects. TSS works with each state and transit agency as needed to meet individual requirements for DBE goals on a contract-by-contract basis. We look forward to being your DBE supplier while maintaining the same quality and support since 1994.
Our current markets include:
Streetcar
Commuter Rail
Locomotive

Freight
Light Rail
Heavy Rail
To learn more, please browse our website using the links above.
For inquiries, please visit our Contact Us page.